CleanMount™
Strongarm Healthcare's CleanMount keyboard and monitor wall arm features a fully enclosed cable passageway eliminating all external cable clutter, and its smooth, non-porous surfaces are ultra-cleanable. CleanMount's multiple pivot points and vertical articulation allow the monitor and keyboard to be quickly and easily repositioned to achieve optimal ergonomics for each user. Durable, cast aluminum construction makes the CleanMount exceptionally suitable for hospitals and all healthcare, clean room, and point-of-care environments where cleanliness is vital.
Features
Internal cable passageway minimizes exposed cables
100% counterbalanced and pre-wired for your monitor/display
16″ of vertical articulation
Remains level throughout the vertical and horizontal movement
Secure mechanical lock-in-place feature
Keyboard enclosures are available with an 18″ or 22″ wide keyboard tray
A left/right slide-out mouse pad tray is standard on the 18″ keyboard tray and optional on the 22″ keyboard tray
Integrated USB 3.0 hub included
"No bounce" platform for typing
Tilting display mount with standard VESA bracket (VESA bracket with 6.25″ of vertical adjustment is optional)
Pivoting ergonomic display mount reduces glare and enhances visibility
Robust aluminum construction, powder-coated antimicrobial finish (see color options)
Dual swivel ends allow for precise ergonomic repositioning
Optional rotational stops
Fully extends 40.375″ from the mounting point, up to 58.375″ with optional horizontal extension*
Folds to 10″ depth for convenient stowaway
Mounting tracks are available from 12″ to 72″
Lifetime Warranty
*Measured from the front of the keyboard tray fully extended from the keyboard enclosure to the wall mounting point.
Included! The CleanMount PatientView™ feature provides the ability to pivot the display and keyboard independently, allowing the patient to view the information displayed on the screen.
Video: Articulation & Ergonomics
Specifications
Adjustability
Vertical Travel
16″
Swivel at Display End
340°
Swivel at Mounting End
180°
Display Tilt
Forward tilt: 15°
Backward tilt: 45°
Vertical Positioning
Counterbalanced vertical adjustability
Display and keyboard maintain level when repositioned
Materials of Construction
Body
356 cast aluminum alloy
Keyboard Tray
5052 aluminum alloy
Cable Management
Removable cover, cables are factory preinstalled
Bearings
Horizontal Axles
Precision ground ball bearings
Vertical Axles
Acetal bushings
Mounting Styles
Track mount, wall mount, or surface mount options available.
Finish
2-part catalyzed polyurethane antimicrobial powder coat and custom colors available
Approvals and Certifications
UL, CE, U.S. GSA Advantage, HCAi
Keyboard Options
CleanMount is available with a variety of keyboard and mouse tray options. All keyboard enclosures and trays include a USB 3.0 hub (powered USB hub optional). Custom keyboard tray and work surface configurations are available.
Standard Slideout Keyboard Module
(18.5″ width)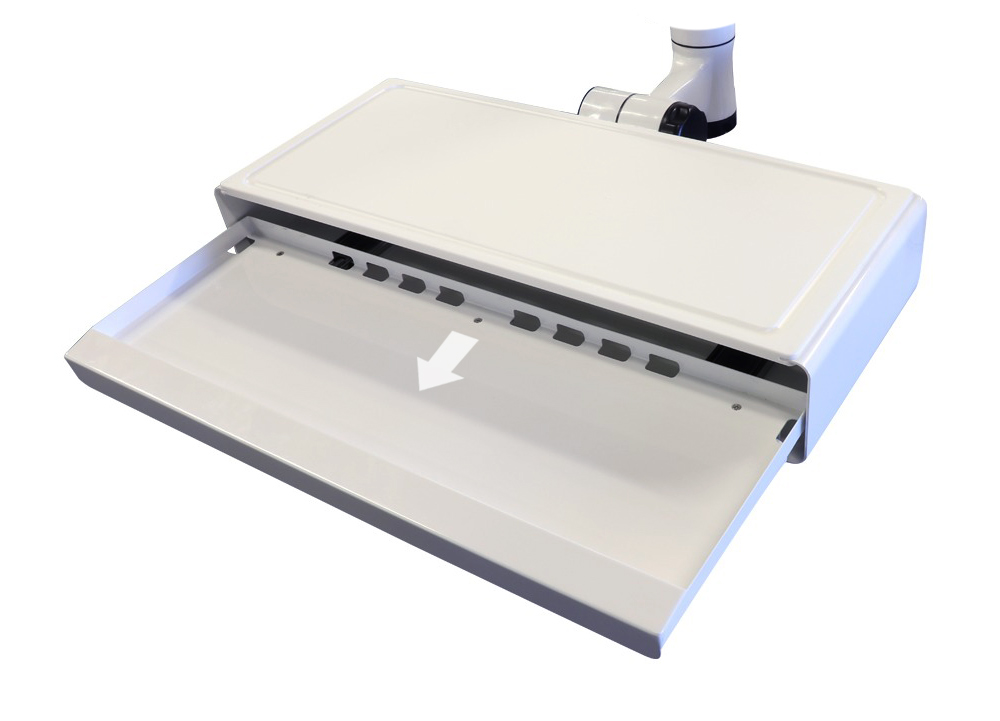 Wide Slideout Keyboard Module
(22.5″ width)
Standard Slideout Keyboard Module
(with slideout mouse trays)
Wide Slideout Keyboard Module
(with slideout mouse trays)
Open Keyboard & Mouse Tray
Accessories
Strongarm Healthcare offers a wide selection of optional CleanMount accessories that are either track-mounted or secured with custom VESA mounted brackets, including PC holders and enclosures, dual display mountings, brackets for bar code scanners and card readers, horizontal extension arms, webcams, and more.
Customized Solutions
Strongarm Healthcare has the expertise and experience to customize, design, and build your healthcare application's ideal solution. Our extensive design resources enable us to engineer every feature you'll need before in-house fabrication, assembly, finishing, testing, quality assurance, and on-time delivery. Since 1990, we've designed, built, and delivered over 450,000 products with more than 310,000 different design customizations for our customers.